On focus! 36 projects have been shortlisted for the 2018 Additive Manufacturing of Global Innovation Competition in the re-evaluation stage. Which one do you like best?
In recent years, the domestic 3D printing industry has developed rapidly, and its application field has also expanded. In the strategic plan of "Made in China 2025", additive manufacturing (3D printing) has also been listed as one of the key technologies, injecting new momentum into Chinese manufacturing.
To expand a larger application market and to explore more advanced technologies, products and projects that integrate the additive manufacturing (3D printing) technology, 2018 Additive Manufacturing of Global Innovation Competition is officially launched on August 8, 2018, and has entered Dalian, Shanghai, Guangzhou, Wuhan, Wuxi, Stavanger and other domestic and foreign cities. At the same time of project solicitation, the competition will directly face to face with the industry and application side to expand application space for 3D printing. This competition is not limited to the core and cutting-edge technologies in the field of pure additive manufacturing (3D printing), and it encourages interdisciplinary technologies, products and projects that integrate additive manufacturing (3D printing) so that more industries can witness the advantages and values of additive manufacturing (3D printing).
After nearly three months of solicitation, nearly 100 outstanding additive manufacturing (3D printing) innovative projects are collected. In accordance with the criteria of innovation, application market prospects and business case, 36 quality projects with scale, market prospects and innovations have been selected by rigorous preliminary evaluation. These outstanding projects will enter the roadshow review stage of the competition and project representatives will have face-to-face dialogues with experts and investors. We will wait and see which projects will "gain the favor" of the expert review. Through the competition, 3D printing advanced technology, products and application projects will be selected, and industrial policy support will be given to promote the transformation of technological achievements, so that technology and industrial applications can be connected, and a wider application scenario will be explored for 3D printing to drive industrial upgrades of additive manufacturing (3D printing). Industrial professionals, investment experts and industrial experts who are interested in the application of additive manufacturing (3D printing) are sincerely invited to the review scene of the competition, who will jointly pay attention to and participate in quality review projects and the future development of additive manufacturing (3D printing) industry.
The re-evaluation promotion list is freshly released. Which project do you most like?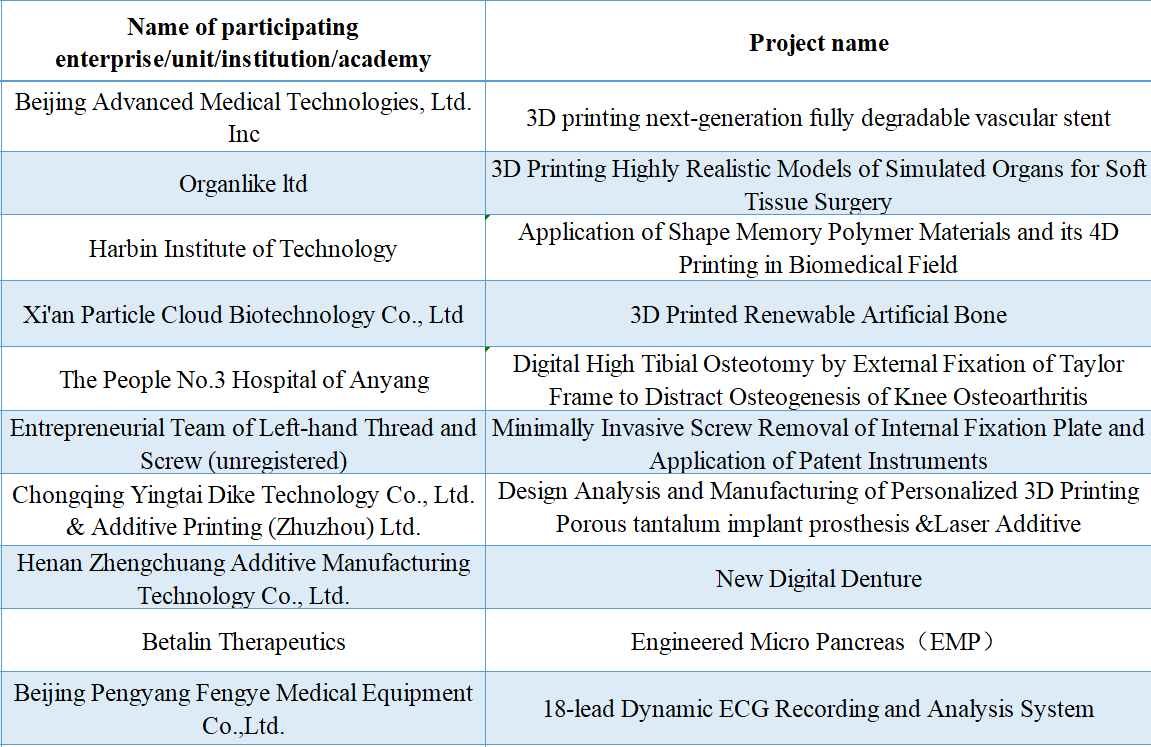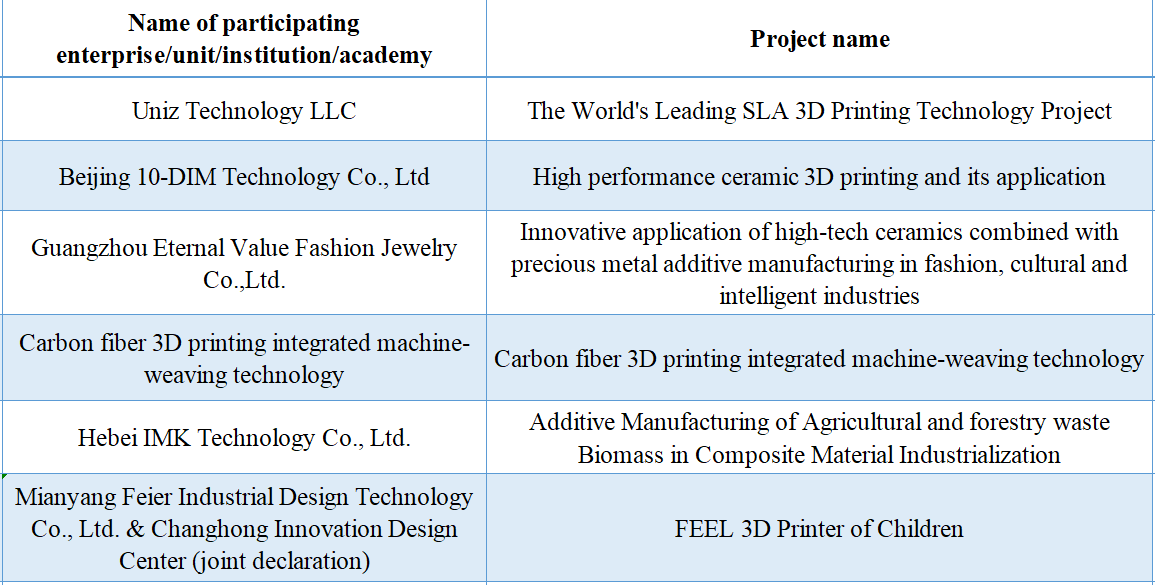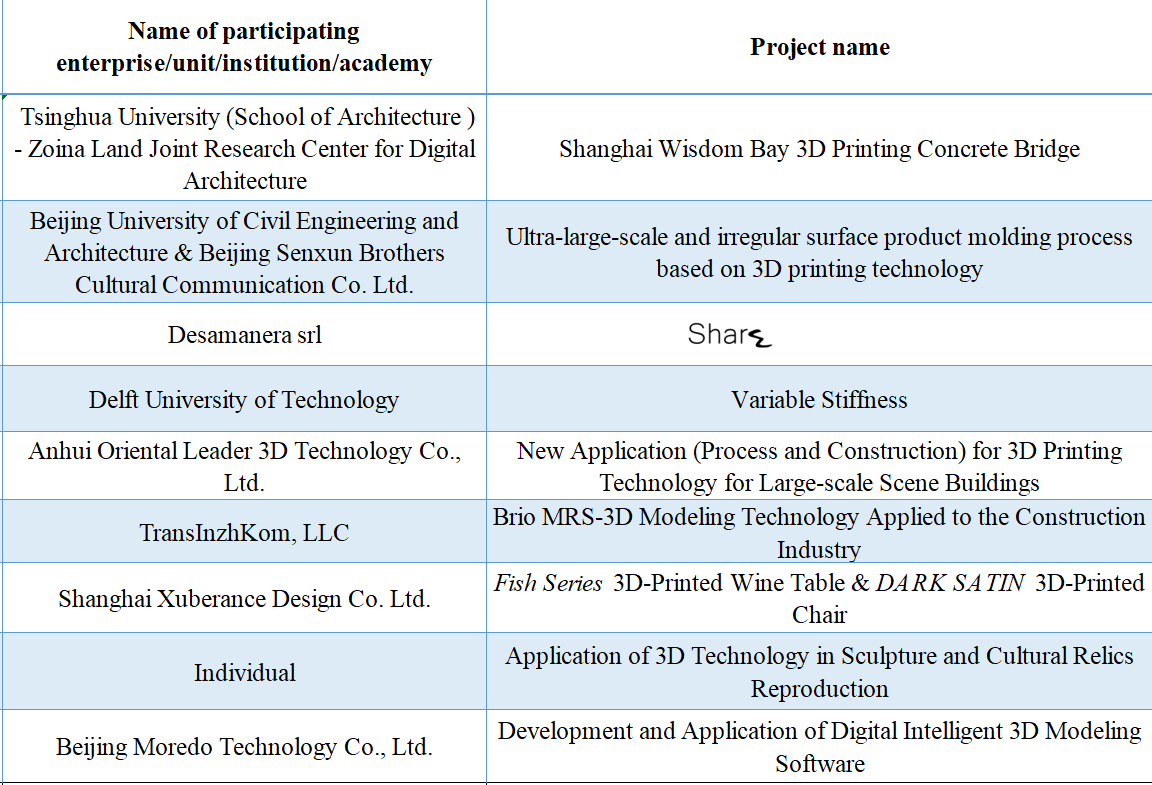 Re-evaluation rules
The re-evaluation will be held in the form of on-site roadshows from 09:00 to 17:00 on November 27-28, at 2F Multi-function Hall 11 (No. 15 Shooting Range Road, Fengtai District), Block A, Beijing Riverside Hotel. Roadshow projects continue the classification of the initial evaluation and are divided into 4 groups. Each group of judges is composed of professional industry experts, investment experts and representatives of the organization, 5 or 7 judges in total. Representatives of each competing projects will deliver a speech for 10 minutes. Then, the on-site review judges will ask questions and the representatives will defense, all together 10 minutes for interaction. Review judges will score according to the evaluation criteria based on the roadshow and the working group will conduct statistics and calculate the average scores. All roadshow reviews of the four group projects will be finished on November 28 and the project list of advancing to the finals will be determined on the same day.
Re-evaluation is approaching. Who will be the winner?
First of all, congratulations to all review project groups who have entered the re-evaluation stage of the competition. Each project has its highlights and development potential, and each representative will demonstrate the technical innovation points as well as the market development prospects.
Among 36 projects, 15 projects will be promoted to the final review. Which project will gain the favor of the expert review and get the final promotion card? And who can get the olive branch provided by investors, waiting for you to witness at the re-evaluation scene!
First look at the review promotion projects.
Short-flow Preparation of Micro-spherical Titanium Powder by RF Plasma
Name of participating enterprise/unit/institution/academy: USTB (University of Science and Technology Beijing) team of reaction synthesis and nano materials
Technical field: Automobile/ Aerospace / Mould
In recent years, the development of 3D printing titanium alloys in China has grown by leaps and bounds. As a raw material for 3D printing titanium alloys, micro-spherical titanium powder has great potential in domestic and foreign markets. This project aims to master the radio frequency plasma spheroidization technology of titanium powder and realize the low-oxygen preparation of micro-spherical titanium alloy powder. The project has already completed the pilot test and can realize large-scale production. At present, it has provided trial samples for some enterprises and achieved certain results. For example, the micro-spherical titanium alloy powder developed in cooperation with Peking University Third Hospital is used for 3D printing to customize dental implant production.
3D Printing Next-generation Fully Degradable Vascular Stent
Name of participating enterprise/unit/institution/academy: Beijing Advanced Medical Technologies, Ltd. Inc
Technical field: Biomedical Engineering
The project uses fully innovative 3D printing technology to develop fully degradable coronary and peripheral vascular stents. The enterprise uses the most advanced and multi-dimensional rapid melt forming technology to produce fully degradable stents. Its production technology has reached the international leading level and greatly reduced energy consumption and environmental pollution. In the next 3-5 years, the development of 3D printing fully degradable vascular stents with independent intellectual property rights and the industrialization of fully degradable vascular stents will not only fill in the gap of this field in China, but also generate huge economic benefits, and can provide the latest fully degradable drug stent system for our patients.
Carbon Fiber Integrated Machine-weaving Technology
Technical field: personalized customization
The project completes the carbon fiber integrated molding through 3D machine-weaving technology, and it is suitable for mass production. Compared with the weaving technology, the production efficiency of the layering technology is 4-8 times higher, and the 3D molding of the profiled parts is more efficient than the traditional hand layup method, and the comprehensive performance is multiplied. For the military and civilian markets, the demand for weight reduction is strong, such as target police equipment, special explosion-proof vehicle accessories, personal wear protection equipment, stealth aircraft, missiles, UAV (unmanned aerial vehicle) , special robots, artillery, tanks, helicopters, military cabins, etc.; body weight reduction of new energy vehicle (bearing parts, interiors), (weight reduction of CRH internal parts, cargo trucks, 3C products) wind power blades, medical equipment (testing equipment, medical bed plates, prostheses, orthoses, etc.), sports and leisure (rackets, golf, yachts, fishing gear) and other fields.
Shanghai Wisdom Bay 3D Printing Concrete Bridge
Name of participating enterprise/unit/institution/academy: Tsinghua University (School of Architecture ) - Zoina Land Joint Research Center for Digital Architecture
Technical field: Architecture / Design / Cultural and Creative Industries
This project has completed the architectural design, structural design and construction method design of the 3D printing concrete bridge. The structural components, bridge deck and railings which meet the design requirements of the bridge are fabricated by the method of 3D printing digital architecture with mechanical arms; The construction of the bridge is completed with modern construction methods without scaffolding. Compared with the arch bridge of the traditional construction process, the bridge has more complex components, higher precision and more free shapes. Meanwhile, the labor cost and construction period are greatly reduced; This bridge construction demonstrates enormous potential of the 3D printing concrete molding method in the construction of large-scale structures.
More projects will be displayed at the re-evaluation site.
Welcome to the scene to follow the latest developments of the competition!